Next Gig for the band is May 7th at Blackpool for the British Open Grand Shield

(click here)

– Wingates Band gets ready for a memorable performance of 'Dynasty' at Blackpool. Queen's Jubilee Concert – Salesbury

SOLD OUT!
Mr Richard Evans Wingates Tribute
On his return from holiday at the first rehearsal of 'Dynasty' for the British Open Grand Shield our MD Mr Paul Andrews, who had a long history of playing under Mr Richard Evans at Leyland wanted to play something in tribute to his friend and mentor and the band was only too ready to agree. Mr Evans was known for his extravagant treatment of Marches and swinging the tunes so instead of a traditional hymn we decided to play "On The Quarterdeck" and play it as best we could in the style "à la Evans".
April 2022 Wingates 100 Club Draw
and the Winner is: 

We had an amazing time playing to a packed out crowd in St Michael's Church, Cockerham on Saturday.
It was great to play for such a receptive audience who enjoyed our programme of brass band favourites plus a special St George's day segment of tunes, which our guest conductor for the night, Mark Peacock, made a special effort to dress up for – very snazzy!
We paid tribute to the legend that is Mr Richard Evans by dedicating our performance of 'Dear Lord and Father of Mankind' to him, which meant a lot to the us and those in the audience who knew Mr Evans.
Thank you to everyone that turned out, we hope you enjoyed and special thanks goes to Mark Peacock for working with us
Sad News for the Brass Band Movement
All of us at Wingates Band are devastated to hear about the passing of a true band icon, Mr Richard Evans.
Richard's influence features prominently in our band's history with his legendary win with Wingates performing Fireworks at the British Open in 1975.
As with so many others around the banding world, his presence, guidance, humour and friendship will be greatly missed. 
Thank you for everything Mr Evans
Congratulations to our solo cornet player, James Gray who has been appointed Principal Soprano Cornet of the The National Youth Brass Band of Great Britain
Speaking on his achievement James said:
"It's an amazing opportunity to sit on a principal seat at NYBBGB. I'm excited for the week ahead and the concert following the course in Huddersfield"
Well done James, all of us at Wingates Band are incredibly proud of you 🎺💙💛
Celebrating Wingates and our Home – Fanfare For The Common Man
Wingates Band Tribute to Local Heroes
—————————————————————————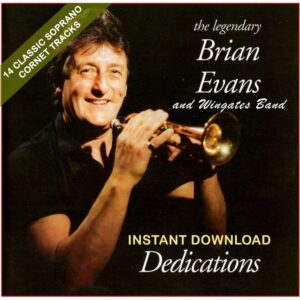 Now available to download. This is a rare and unavailable anywhere else recording by the great Brian Evans and Wingates Band. Unbelievable quality of playing – a Must for any aspiring musician.
Preview Tracks here: Click
Get Download: Here
—————————————————————————
NEW VIDEO!  
Before the second national lockdown started, members of the band had been meeting in small ensembles to rehearse and enjoy making music together again after a long time out of the band room.
We decided to start making some recordings and videos of our efforts and we're excited to share with you our latest release* – 'Let All Mortal Flesh Keep Silence' by Edward Bairstow and arranged by our composer in residence, Adam D J Taylor.
Originally for choir, this piece was written just as much for the space it was to be performed in, York Minster, as it was for the services it accompanied. With lots of pauses to enjoy the Minsters long reverb, the band simply had to perform this gorgeous piece in a church. Huge thanks to Fr Philip Carr and the parish of St. Julie's in Eccleston for letting the band use their beautiful building.
We hope you enjoy our latest video featuring some super talented members from the middle of the band!
Music available for purchase from
.
*Recorded before second national lockdown and in line with local guidance.
WE'RE BACK!!
Here's our first LIVE Covid-19 Special Recording
recorded in October 2020


Get in Touch
We love having visitors! (but please contact us first near to Contest Times)
Wingates Band Hall
Wingates Square
Westhoughton
Bolton
BL5 3PS
Give us a ring
Mrs Sue MacDonald – Band Manager
Mobile: 07966 364530